DMKTG.shop
Regular price
Sale price
$25.00 CAD
Unit price
per
Sale
Sold out
Thinking of starting a Side Hustle (Small Business) with a Website, Shopify or Etsy Store and want to use Social Media & Digital Marketing strategies but don't know where to start!?

I'm an entrepreneur just like yourself, and I've launched my Side Hustle (with help of this checklist) to help entrepreneurs & side hustlers get started on their journey, here's one of my products!

This product "Side Hustle Checklist - Top 10 Things To-Do When Starting a Side Hustle" (PDF & Canva template) is a great resource for entrepreneurs & side hustlers, with a concise top 10 things to-do to get started on your journey! (Top 10 strategies for each checklist is included!)
Features:

• Top 10 strategies included on each page to start your side hustle
• 8 PDF Printable document
• Canva Template link for your own digital version

Simply print this 8 page PDF and review the Top 10 checklist items I've provided as a starting point. You can then check off items on the list and even add your own to-do list items, notes & dates!

I've included a Canva Template link you can use to view/edit your own digital version of the checklist!

Digital download includes these 8 pages:

1. Starting a Side Hustle
2. Additional Things
3. Starting a Website
4. Starting an Etsy Shop
5. Starting a Shopify Store
6. Starting a Social Media Profile
7. Starting Digital Marketing
8. Details of Things (Checklist)

* Remember starting a side hustle is an investment of your time and energy into a business you own, and are always learning, building & growing

Thanks,
Jay

LICENSE

When you purchase a digital product from DMKTG Shop - you adhere to the digital product license terms
Share
View full details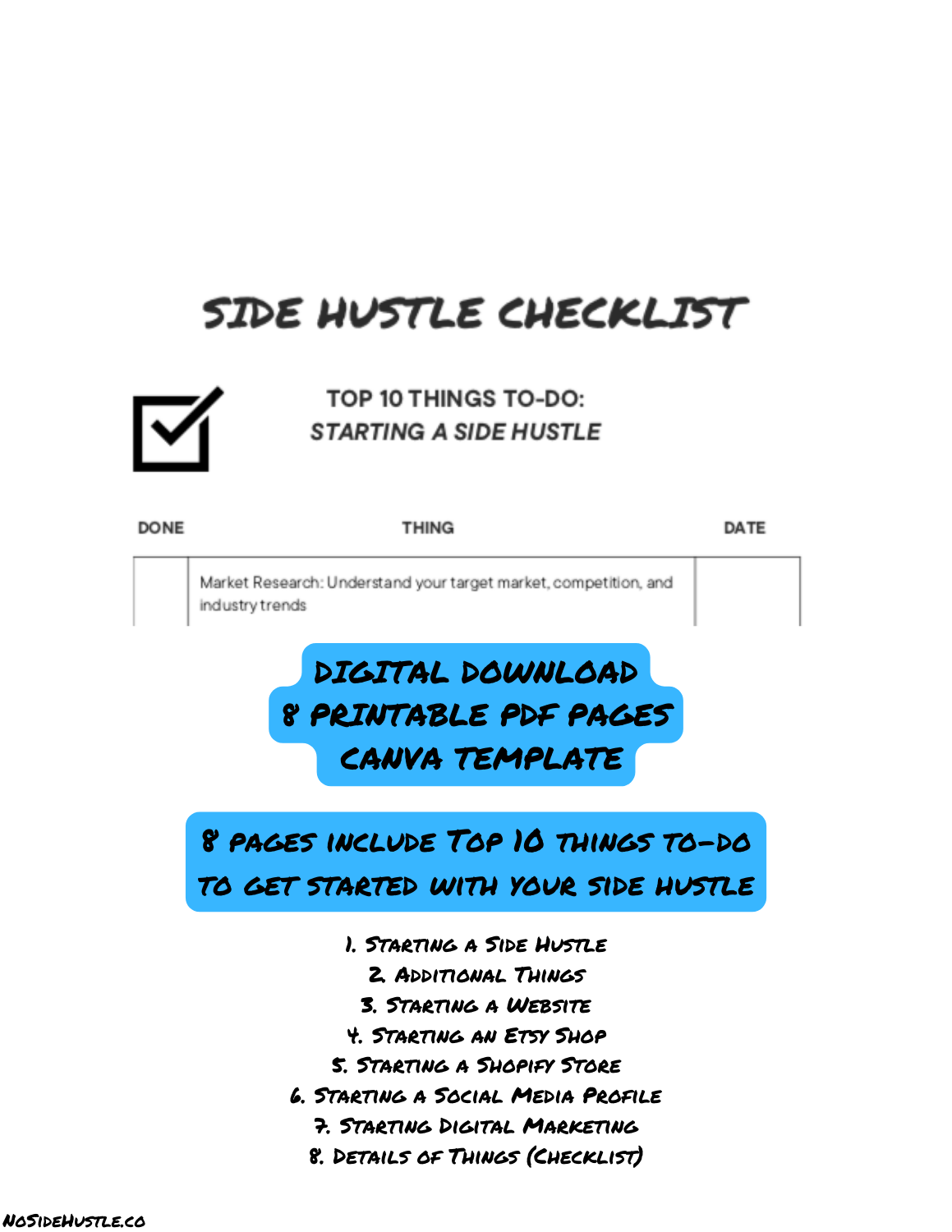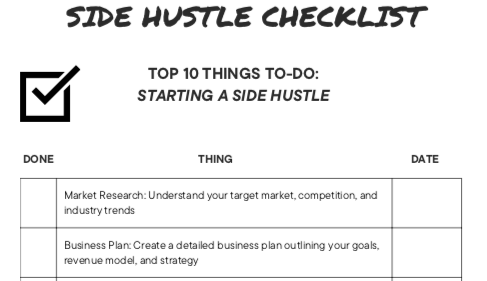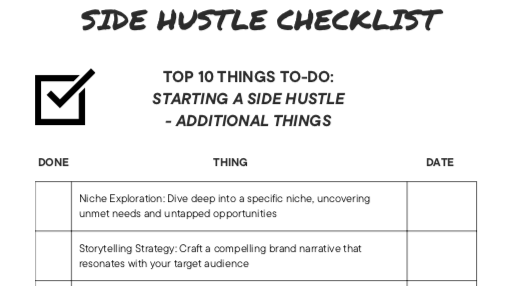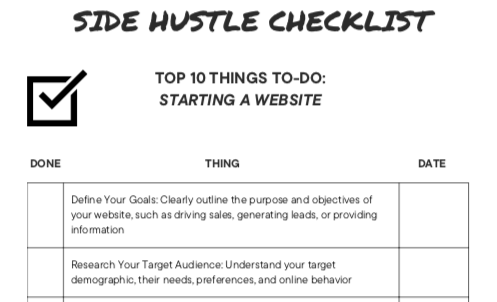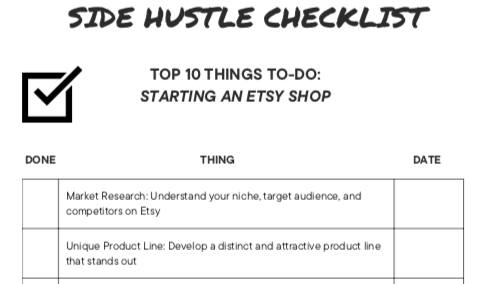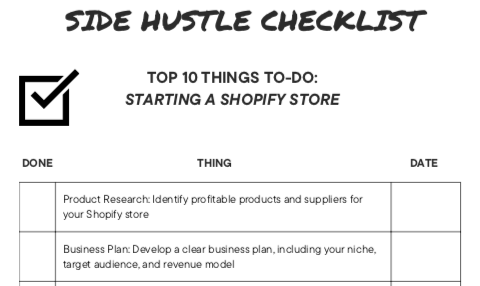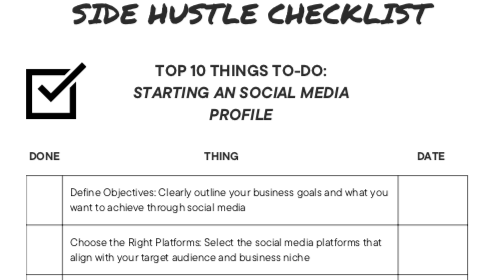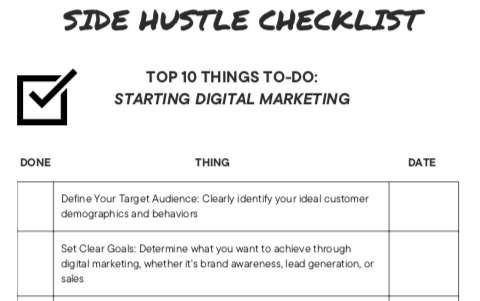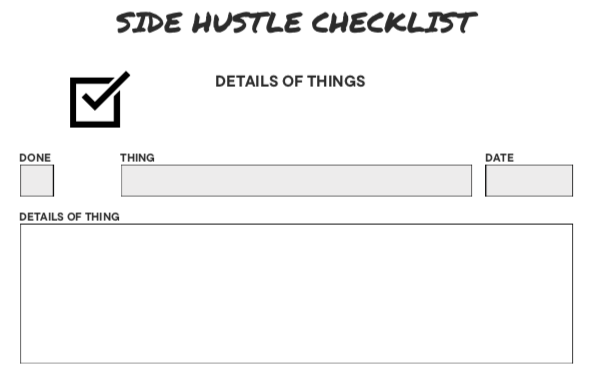 How do our Digital Goods Work?
Requirements - Please Read

1. Your OWN Canva.com account. Canva is required to utilize this template. We recommend Canva Pro, but that version is not required.


2. Be familiar with the Canva Platform. Don't know the Canva Platform? That's OK we can help! (see below)
Why Buy from DMKTG.shop?

We're an established Digital Agency


We offer a Website Subscription Plan where we can manage, update, edit, change, stuff on your website for a low monthly fee! (Not required to use templates!)
We can Help with your Template

It's not that complex.. We'll help you with your Wix template for Free for 14 days after purchase (We want your Wix template to be succesfull)

We offer a Website Subscription Plan and can manage your Wix site all for a low monthly fee!

Wix Plans